JCR Executives and Officers
President: Paddy Breeze
Email: jcr-president@sjc.ox.ac.uk 
"Hi, I'm Paddy, a third-year Classicist at St Johns, and I'm very excited to be the JCR President for the year 2023. My job is primarily to represent the views and wishes of the undergraduates in College at the various college committee and meetings in which Junior members have a say. I'm generally the first point of contact when it comes to any aspect of undergraduate life here at St Johns, and I'm always happy to pass you on to the relevant member of the JCR Committee if you're not sure who to get in touch with. Feel free to contact me about literally anything at all; it's what I signed up for! St John's is a fantastic college with a wonderful undergraduate community, and it's a pleasure to represent and lead it as the President of the JCR." 
Vice President: Jacob Hill
Email: jcr-vice-president@sjc.ox.ac.uk
–
Treasurer: Ed Patrick
Email: jcr-treasurer@sjc.ox.ac.uk
–
Academic Affairs Officer: Bulcsu Diossi
Email: jcr-acaffairs@sjc.ox.ac.uk
"Hi, I'm Bulcsu. I'm a second year PPEist and very excited to be your Academic Affairs Officer. I am the go to person for any Academic issues JCR members may have, and your vocal advocate regarding any such issues you may have with College. I also run the Academic Feedback process, which is your chance to have your say in College Academic and Educational Policy. Drop me an email at jcr-acaffairs@sjc.ox.ac.uk if you have any questions."
Access Officer: Daniel Hobart
Email: jcr-access@sjc.ox.ac.uk
"Hi everyone, I'm Daniel – your Access and Admissions Officer. My main goal will be to break down as many hurdles which discourage applications to Oxford, as well as aiding those making applications who lack access to the support networks many Oxbridge applicants benefit from. If you're a current student please always feel free to email me if you have any ideas or are interested in helping with outreach, and if you're in the process of applying to university and are interested in John's (or Oxford more generally), don't hesitate to reach out with any questions you may have!"
Beyond the Walls Officer: Cosimo Asvisio
Email: jcr-discounts@sjc.ox.ac.uk
–
Domestic Officers: Vish Ganesh & Sasha Howells
Email: jcr-domsec@sjc.ox.ac.uk
"Hiya, we're Vish and Sasha (Geographers) – your Domestic Officers. We are so excited to be putting on guest dinners for you and taking care of all things domestic, from airbeds to meals in Hall. Any questions or suggestions just email/message us!"
Entz Officers: Raghav Chari & Lizzie Heywood
Email: jcr-entz@sjc.ox.ac.uk
–
Environment and Ethics Officer: Connor Manship
Email: jcr-env-ethics@sjc.ox.ac.uk
"Hello"
Equality and Diversity Officer: Matthew (Mattie) Reynolds
Email: jcr-equality@sjc.ox.ac.uk
"Hello"
IT Officer: Yusuke Atsuta
Email: jcr-it@sjc.ox.ac.uk
"Hey – I'm Yusuke, and I'm in my 2nd year studying Maths & Computer Science. My main responsibilities are to loan the JCR's IT equipment if yours breaks and to maintain this website, but I also help make sure anything IT-related in the JCR runs smoothly. If you have any feedback (on this website or College IT in general) or need to borrow a laptop, keyboard, cables in an emergency, feel free to reach out!"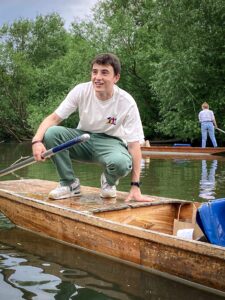 Sports Officer: Ian Pebody
Email: jcr-sports@sjc.ox.ac.uk
"Hi everyone, I'm Ian, a 3rd year Engineer and I'm your Sports Officer! My role is to keep everything on the sport side of college life running, and to make sure it's easy and accessible to get involved with college sports teams. If you've got any questions, gym equipment ideas, or want to get involved in sport and don't know how, don't be afraid to send me a message. Sports love and jouer xx"
Welfare Officers: Bailey Jones, Brad Croucher, & Rachel Woods
Email: jcr-welfare@sjc.ox.ac.uk
–
Women's Officer: Lucy Sarrell
Email: jcr-women@sjc.ox.ac.uk
"Hi, I'm Lucy, a third-year PPE student and your Women's Officer. I hope to ensure that St. John's is a safe and welcoming space for all women (whether you partially or wholly identify with the term) and non-binary people. Expect lots of free food, fun events and a healthy dose of feminism. Feel free to message me any ideas you have!"
Returning Officer: Jan Hubel
Email: jcr-returning@sjc.ox.ac.uk
Hi, I'm Jan (he/him), a second-year History and Economics student and the Returning Officer (commonly called the RO) of our JCR.
As RO, I ensure that all JCR Officers are elected in free and fair elections. To this end, I inform JCR members about upcoming elections, procedures and rules, and organise hustings.
I am independent of the JCR Committee, and therefore a point of contact for any complaints regarding the conduct of Officers or functioning of the JCR.
Please let me know if you have any questions about the JCR constitution or election process. You can reach me via email, or in college anytime!